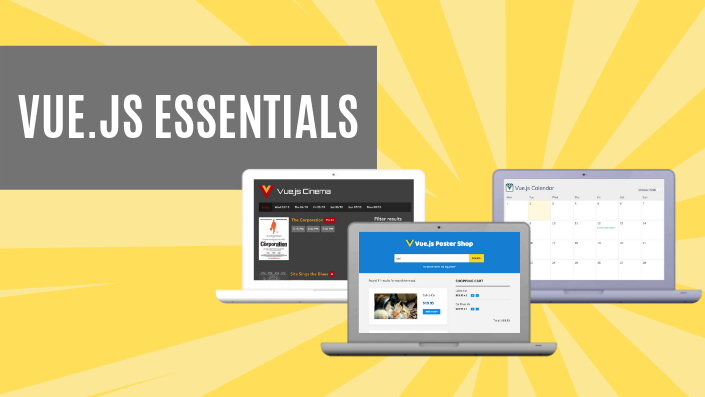 Vue.js Essentials - 3 Course Bundle
Go from Vue.js beginner to expert by building 3 professional, real-world web applications!
If you're looking to learn and master Vue.js with an expert instructor, look no further than Vue.js Essentials.
In this series of three courses, you'll build three real-world Vue.js apps that take you from the very basics of Vue to the cutting edge.

With over 6000 past students, this course bundle includes 10 hours of high-quality video with English closed captions. Purchase of this bundle will also give you access to a private help forum!
Keep reading to see what's included...

Courses Included with Purchase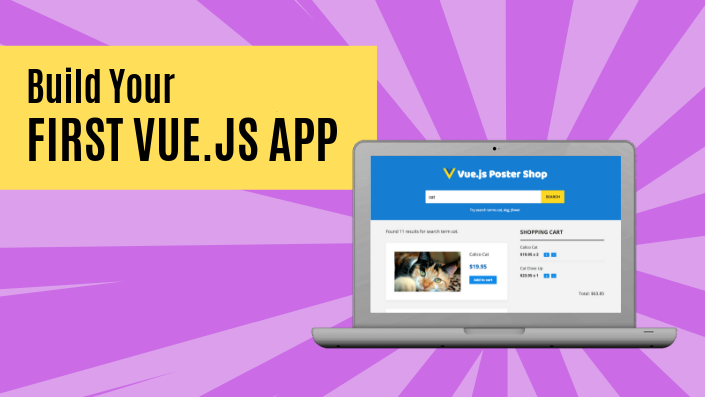 [MB] Build Your First Vue.js App
Get started with Vue by learning the basic features and building a real Vue app!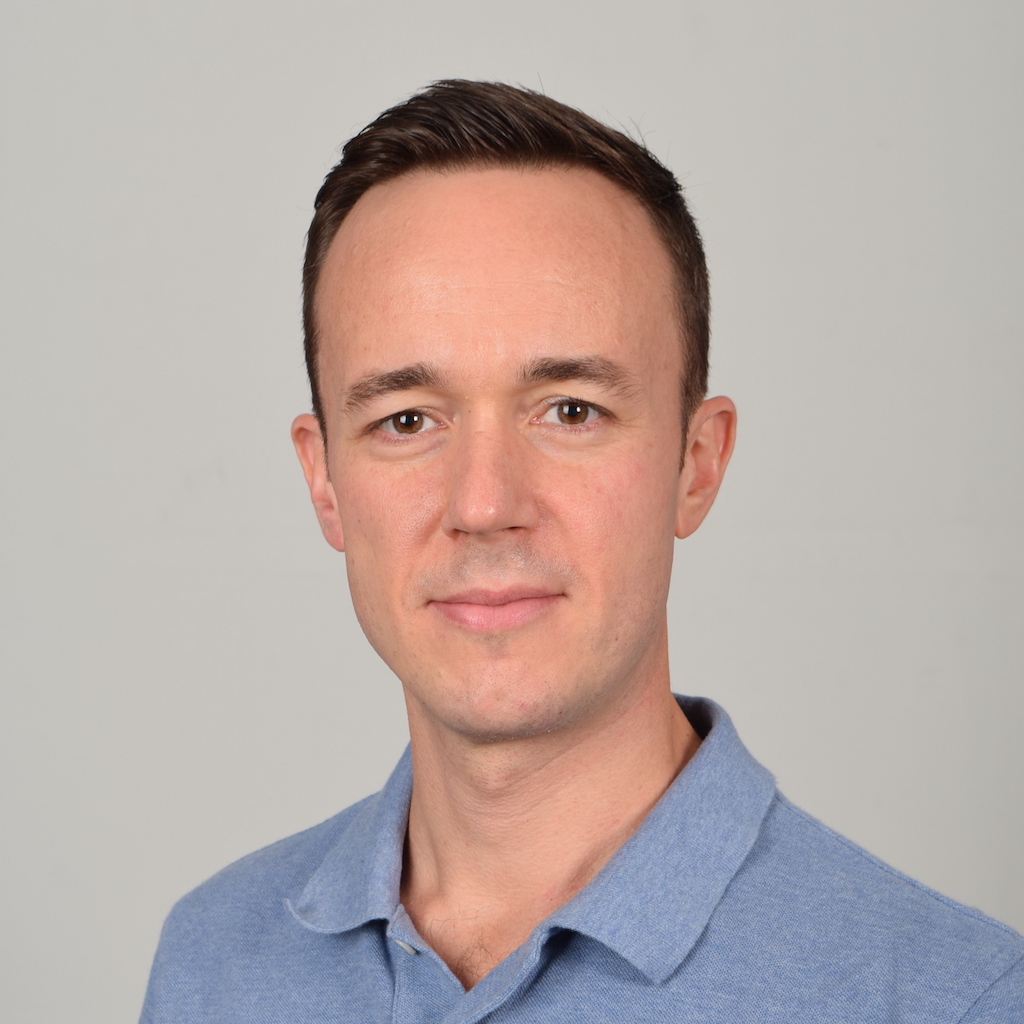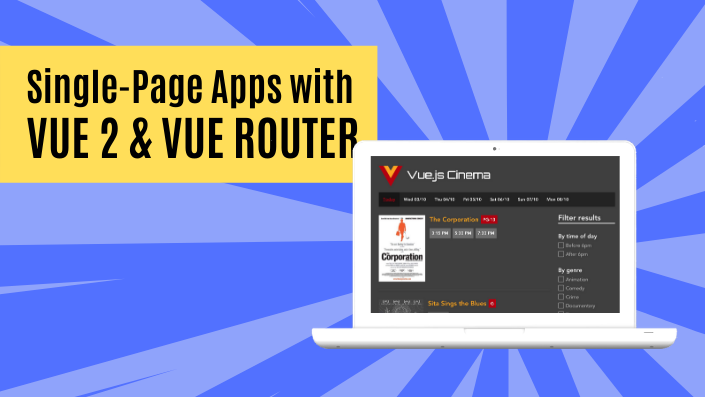 [MB] Single-Page Apps w. Vue Router
Learn Vue hands-on by building a modern, component-based web app with SPA architecture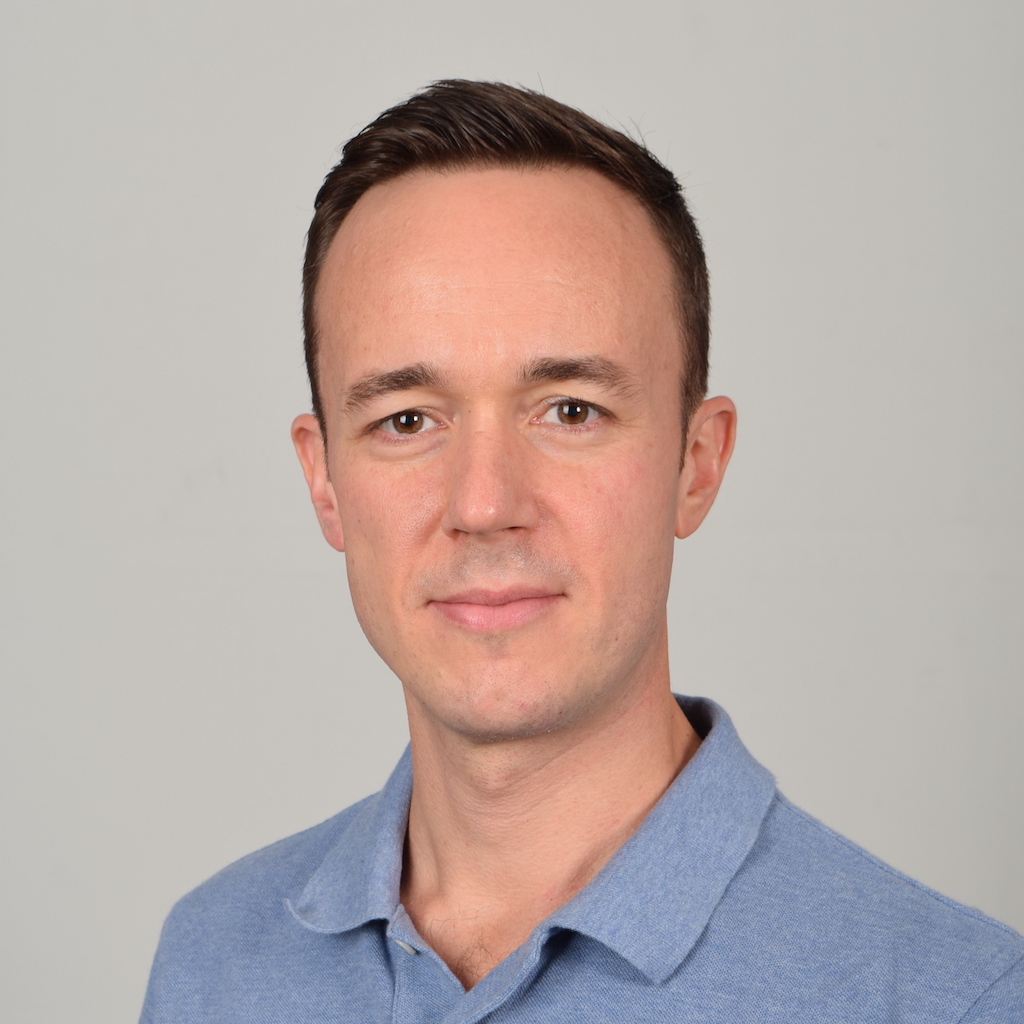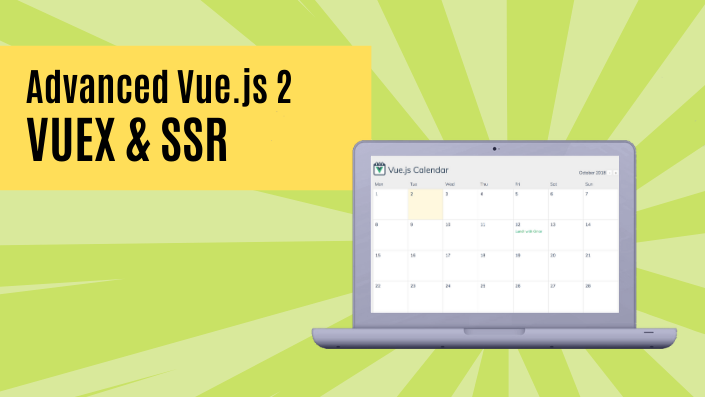 [MB] Advanced Vue 2 - Vuex & SSR
Become a Vue.js expert by learning to build a high-performing, server-rendered app with Vuex!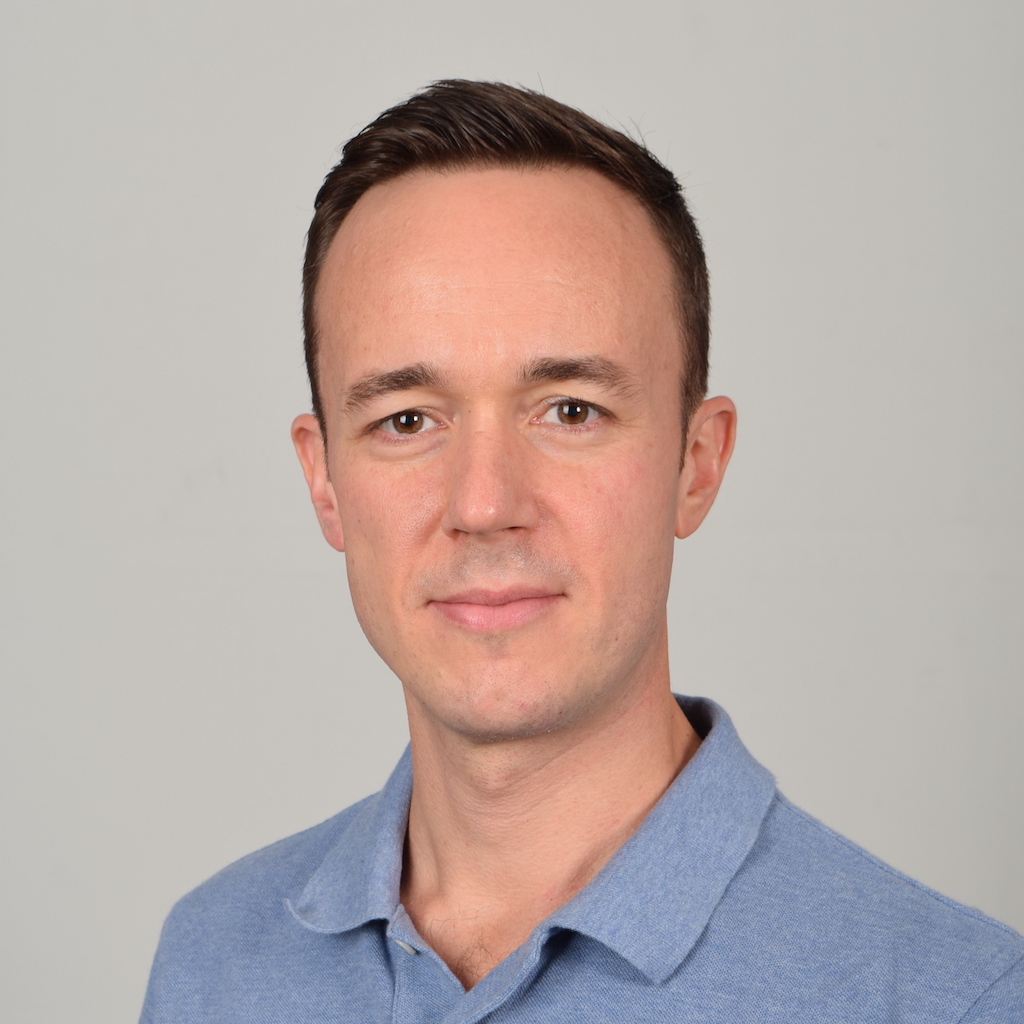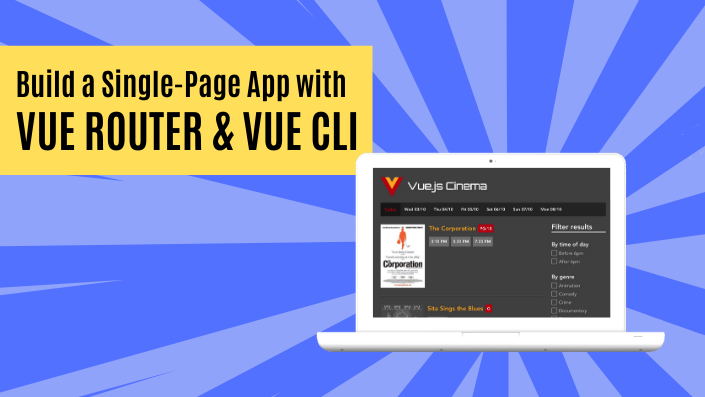 Build a Single-Page App with Vue Router & Vue CLI
Learn Vue 3 hands-on by building a modern, component-based, single-page web app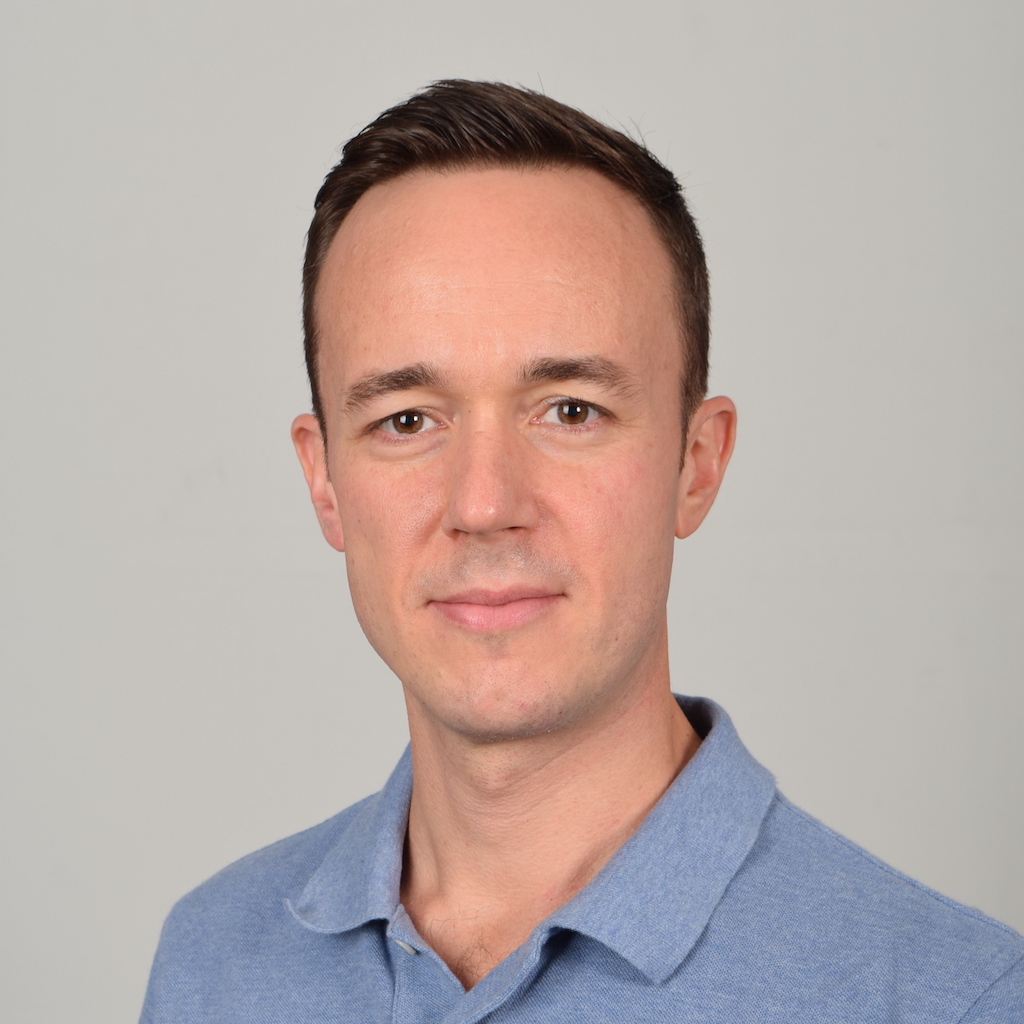 Original Price: $0
Course 1: Build Your First Vue.js App
This first course is an introduction for those who've never used Vue.js or who need to brush up on the basics.
We'll cover key Vue concepts such as:
Installing Vue
Adding Vue to a web page
Template syntax (interpolations and directives)
Lifecycle hooks
Transitions
And more!
The best way to learn is by doing, so we'll put this theory into practice and build a simple but powerful eCommerce user interface complete with products and a shopping cart called Vue.js Poster Shop.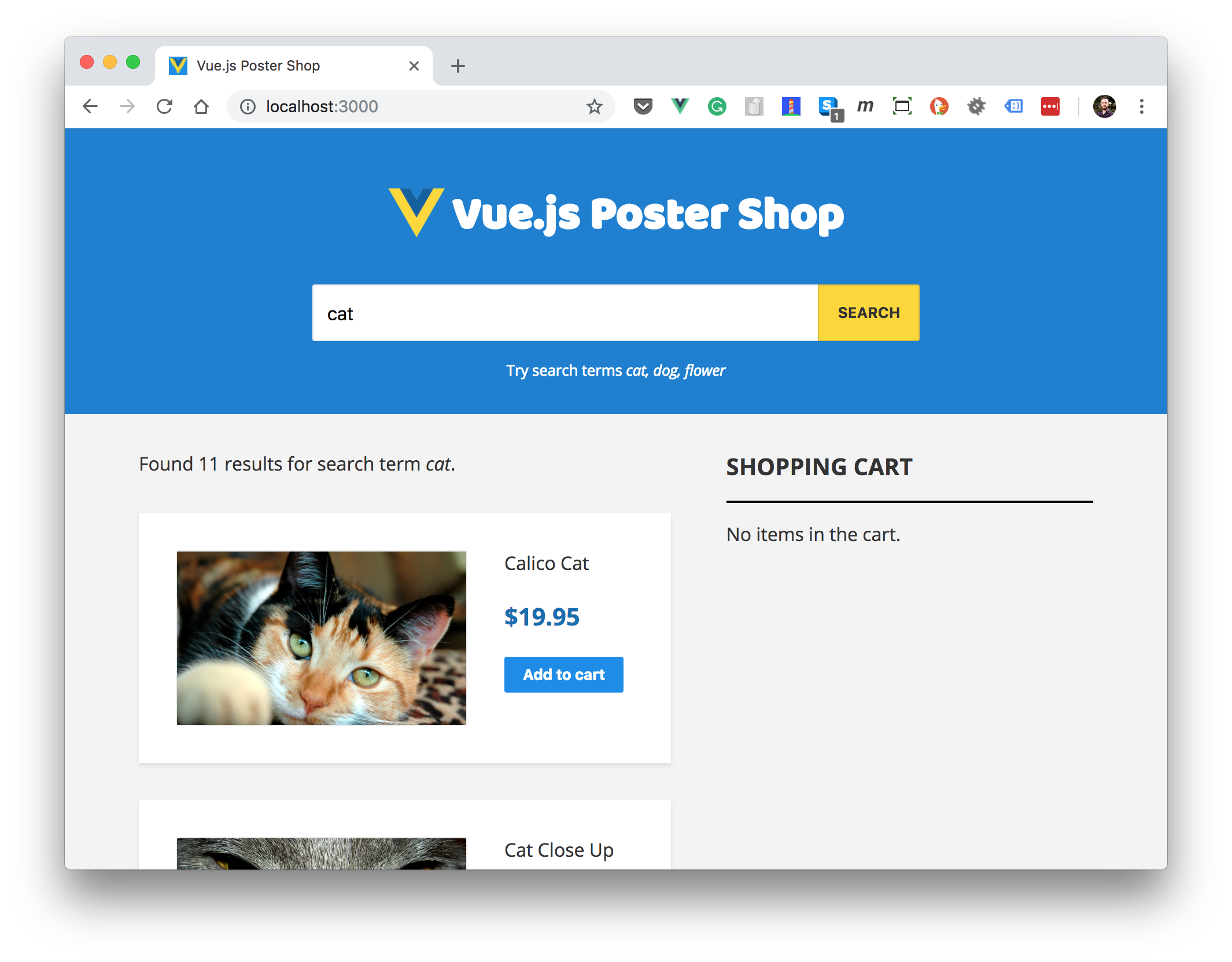 Vue.js Poster Shop - Live demo

Course 2: Build A Vue.js Single-Page App with Vue Router
Now that you know the basics of Vue, you're ready to learn Vue's most powerful features!
By the end of this second course, you'll be able to build a high-performing, feature-rich Vue.js app using the single-page application (SPA) architecture.
Topics covered in this course include:
Components
Vue Router
Slots
Single-file components
Custom plugins and directives
Webpack configuration for Vue.js projects
And more!
Together, we'll build a movie session times app called Vue.js Cinema that, unlike the app from the first course, includes multiple pages managed with Vue Router.
Building this app will introduce you to the power and versatility of components-based app design. You'll also learn how to utilize Webpack for an enhanced Vue development experience.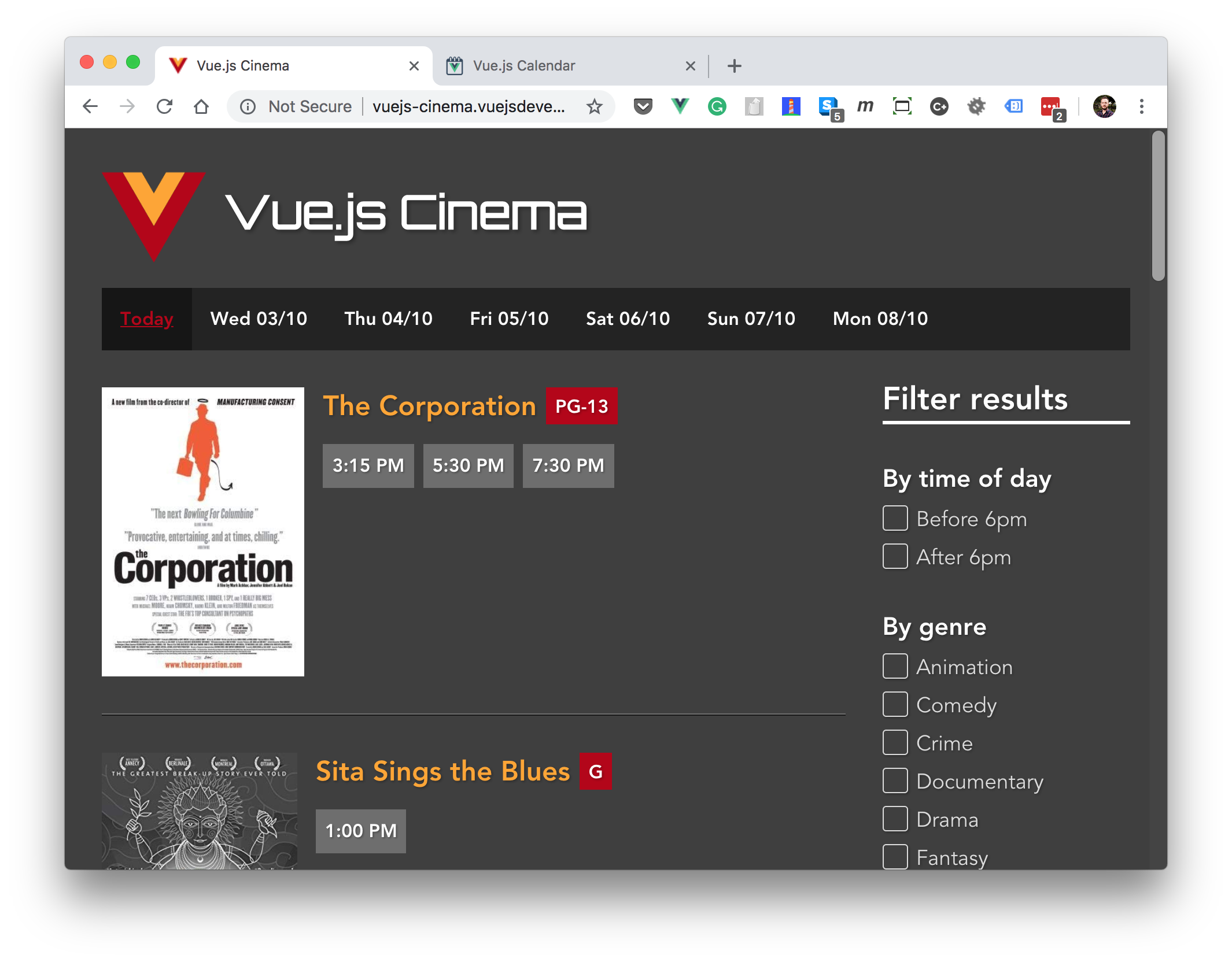 Vue.js Cinema - Live demo

Course 3: Build A Professional Vue App with Vuex & Server-Side Rendering
Are you ready to become a Vue expert?
Now that you're comfortable building Vue.js SPAs, you're ready for Vue's advanced concepts!
In this course, I'll show you the tools and techniques that front-end experts use to build highly optimized, high performing web UI.

Firstly, we'll cover the Vuex state management pattern, which is a special method for storing data in your app that's essential for bigger and more complex sites.

We'll then set up server-side rendering (SSR) from scratch. This is where we compile our app on the Node.js server in order to drastically improve page load time.
The case-study project for this course is our most ambitious yet; a Google Calendar clone called Vue.js Cinema that utilizes Vuex, SSR and a host of other optimizations.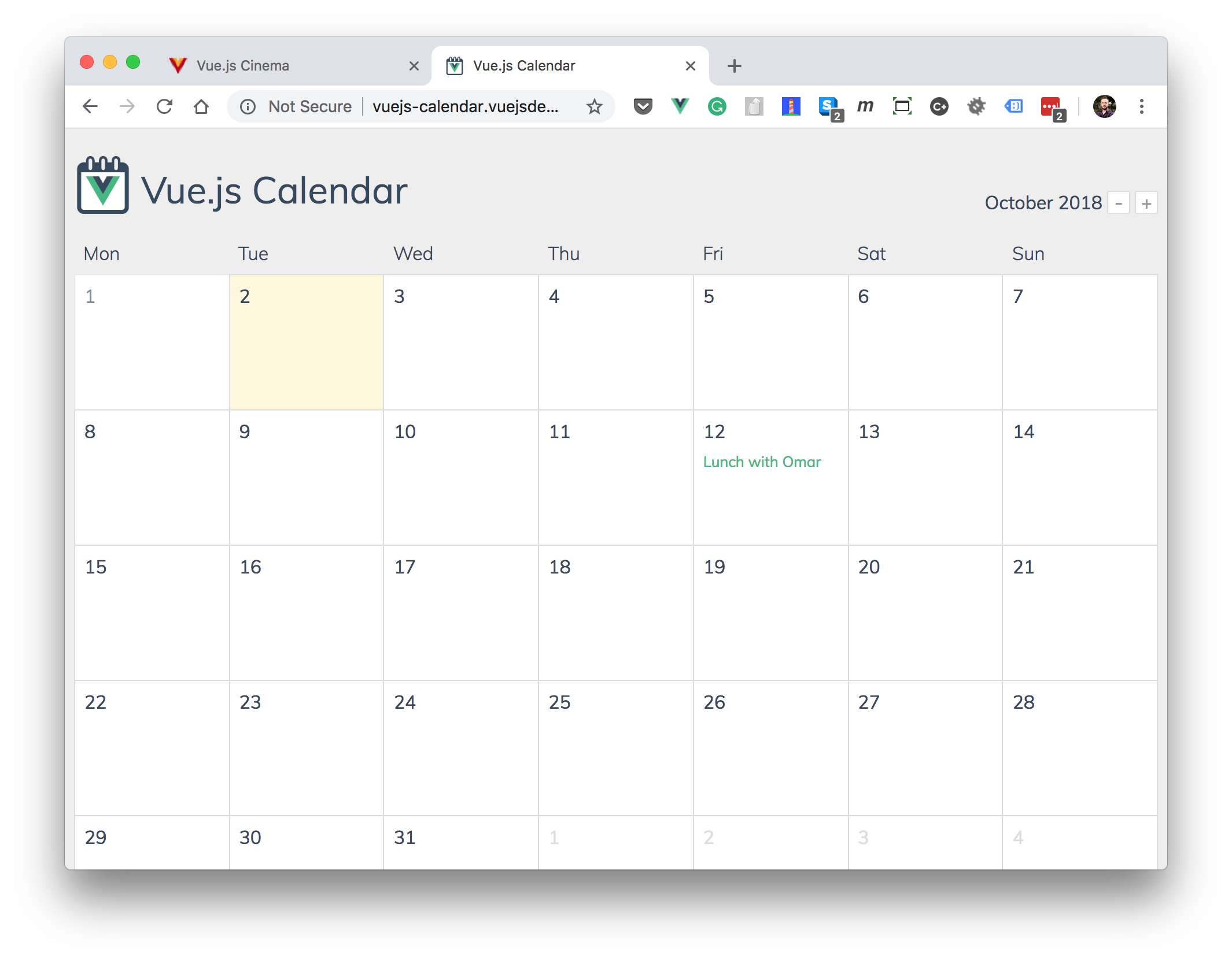 Vue.js Calendar - Live demo
Frequently Asked Questions
When does the course start and finish?
The course starts now and never ends! It is a completely self-paced online course - you decide when you start and when you finish.
How long do I have access to the course?
How does lifetime access sound? After enrolling, you have unlimited access to this course for as long as you like - across any and all devices you own.
What if I am unhappy with the course?
We would never want you to be unhappy! If you are unsatisfied with your purchase, contact us in the first 30 days and we will give you a full refund.
What prerequisite knowledge is there?
This course bundle assumes a basic knowledge of web development, including JavaScript, HTML, and CSS. The third course in the bundle assumes a basic knowledge of Node.js, too.
What operating system is required?
All the courses in this bundle are taught using a Mac (Linux) system. Most terminal commands are simple and are all easily translatable to Windows.
What software do I need installed?
The software you'll need installed on your system includes git, NPM and Node. Instructions will not be provided for installing these. It's also recommended that you have a text editor or IDE.
Your Instructor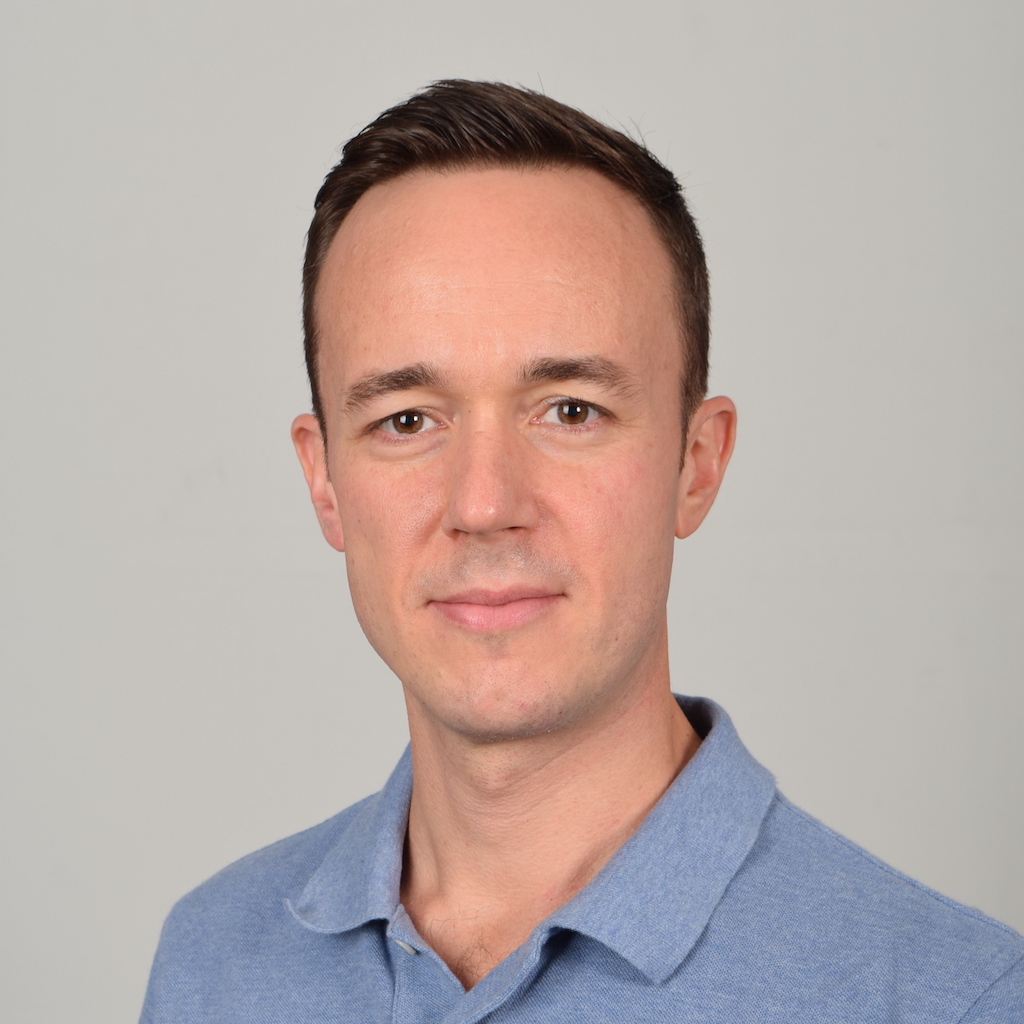 I'm Anthony Gore and I'm here to teach you Vue.js! Through my books, online courses, and social media, my aim is to turn you into a Vue.js expert.
I'm a Vue Community Partner, curator of the weekly Vue.js Developers Newsletter, and the founder of Vue.js Developers, an online community for web professionals who love Vue.js.
I hope to see you in one of my courses!
Reviews
"Anthony could make a course about how to make a good course. It is easy to follow, to understand and each short video covers a tiny, comprehensive feature, just as it should."
Hector Bella Ticoulat, student

---
"The instructor knows his stuff, and the way of gradually introducing new features and showing multiple projects from start to finish is a great way to bring students along."
Matthew Horvat, student
---
"This course is exactly what I was looking for, not much theory, more key concepts, and more hands on the code, really well-structured course"
Marco Munoz, student
---
"Super-clear, quality teaching. Easy to follow and to understand. Recommended."
Darren-Lee Joseph, student
---
"Excellent course. To the point - issues discussed are relevant only to the framework in question - no unnecessary tangents (like vanilla js, css, or unrelated backend concepts). Everything is explained in context of real world apps. 10/10 would buy again."
Andre M, student

---
"Anthony provided a great introduction to Vue.js! After completing the course, I feel like I understand the core foundation of Vue.js and can dive right in to building applications and learning additional features of the framework."
Michael Frank, student

---
"Excellent teacher. I just started today, and kept going, because the information is relayed smoothly, and in a fun way. Bonus points for returning to improve/fix small issues, instead of leaving them as they are. I don't feel confused, or left behind, and the subject matter is properly explained as we go. If you want to enjoy learning Vue.js, take this course."
Eric Stone, student
---
"The course is comprehensive and gives deep details on many Vuejs features, yet introduces them gradually and with thorough explanations. It helps to close a gap between reading Vuejs documentation and building real applications fast and easily."
Eugene Nikolayev, student

---
"Excellent coverage of Vue js framework, the steady increase in complexity as the course goes on helps you retain information and gain a deep understanding of Vue."
Vincent Pauley, student

---
"Very helpful. I learned I lot of new stuff and I thinks its doing projects like that is the best way to learn. Thank you"
Ibrahim Hasan Abtula, student